MONTHLY MEMO

April Newsletter 
Coming Fundraising Activities
Fundraising funds our field trips. This year we are working hard to provide our scholars with fun and exciting learning experiences outside of the classrooms. But without the funds, this can be hard to do. Therefore, DTPA provides a number of fundraising opportunities throughout the school year to raise money to support the cost of admission and bus expenses. We still have a few more chances to reach our fundraising goals.
**Spring Candy & Popcorn Fundraiser Kick-off – February 6th
**Annual Jog-a-Thon: March 22nd
We thank you for supporting the scholars of DTPA. In May, our scholars will be attending various field trips. In order to chaperone for these field trips, you must contact the classroom teacher and your name will be placed in a lottery. If you are selected, you will need to be sure that you have completed the background check in the office with Ms. Crystal. If you have not done so, you will lose your spot and another parent will be selected. So please, if you are interested in participating on field trips, get your background cleared as soon as possible.
DTPA CHEER TEAM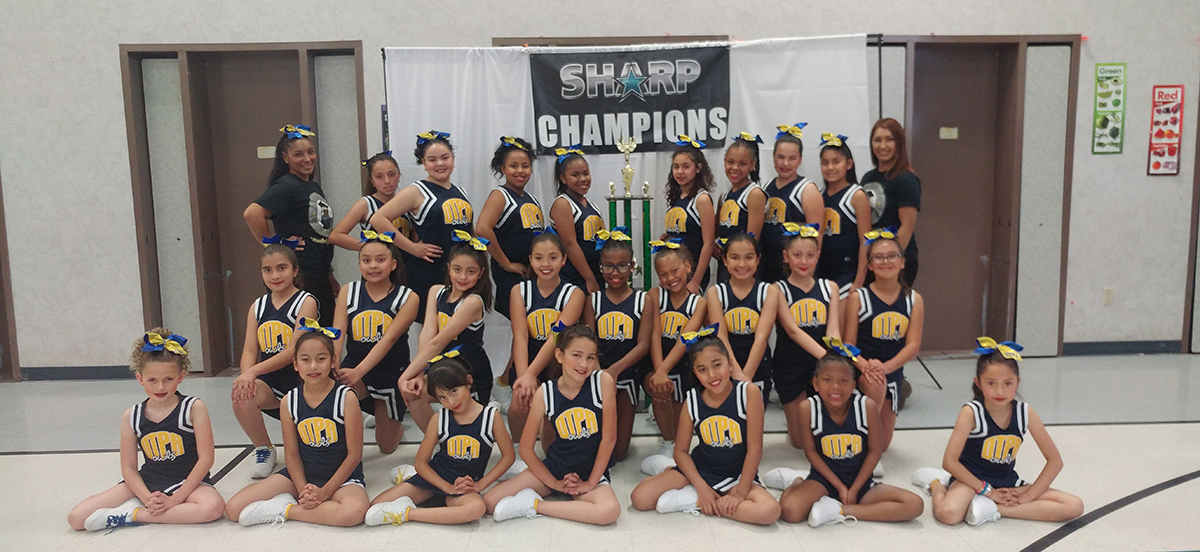 The Desert Trails Preparatory Academy cheer team are victorious again! This year's cheer team ranged from 3
rd
to 6
th
graders who realized that cheer is a fun, but serious sport. Our girls learned quickly that cheer is not easy. With the help of Ms. Jazmyn, Ms. Angel, and Mrs. Vance, the girls practiced their sharp, rhythmic movements twice a week, no matter the weather. As competition day approached, the girls did not falter in their confidence and on March 17, 2018 they proved what their coaches already knew and performed their little hearts out. They were on sharp with their movements, in sync with each other, and hit all of their stunts. The girls gave full effort to get the win. Desert Trails was the ONLY elementary school competing against six other experienced dance/cheer teams and All-Star teams. So, when the SHARP officials called Desert Trails Preparatory Academy as SHARP Champions we knew we slayed the performance! Desert Trails Preparatory Academy Cheer team is a team of mighty stars shining extremely bright. Fear our bows!
APR 22
No School – Snow Day
APR 25
Coffee with the Principal
8:30 MPR
APR 26
Movie Day Fundraiser
MAY 03
Fundraiser Reward
Pizza Party
MAY 06-10
Teacher's Appreciation Week
MAY 14
Battle of the Books
5:00 pm – 7:00 pm @ DTPA
MAY 17
Parent Palooza
8:30 am – 11:00 am
MAY 21
*Field Day 8:30 am
Athletic Attire Free Dress

*Noon Dismissal
MAY 22
*Kinder Promotion 8:30 am
Kinder Fancy Dress

*Noon Dismissal
MAY 23
*Spring Concert,
TK, 1st – 7th grade
8:30 am – 11:00 am

*Fancy Dress or Appropriate Attire

*Noon Dismissal
MAY 24
LAST DAY OF SCHOOL
Noon Dismissal
JUL 12
Back to School Night
JUL 15
First day of School