SEPTEMBER MEMO

FROM YOUR DIRECTOR
Greetings DTPA family!  This school year is off to a wonderful start!  We are so excited to be starting a new year.  Our goal at Desert Trails Preparatory Academy has always been to promote academic achievement.  In addition, we strive to provide students with opportunities for personal growth and prepare them for a bright and successful future.
To our families returning, thank you for choosing DTPA as the place to educate your children.  To our new families, welcome!  We hope that you are all settled in for a great school year.  Each day brings with it the promise of new knowledge, wisdom, and growth. I am looking forward to many days of learning ahead!!
DISMISSAL
We would like to thank all of the DTPA families for understanding and helping us ensure the safety of every scholar.  It is our top priority to keep every scholar safe; therefore, it is important that parents and guardians use their placards to pick up their child.  Placards have been issued to each scholar and additional ones may be purchased in the office for $2.00.
Please remember to bring your placard every day. You may also take a picture of your placard and show it from your phone as well. Your child's first and last name with their grade level should be written on the placard.  You may write multiple names on one placard.
Again, thank you for helping us make Desert Trails Preparatory Academy a safe place for all scholars.
PARENT VOLUNTEERS
Even if you haven't been involved in the past, it's never too late to start. All you have to do is see Ms. Crystal in the office for a volunteer form. Once you have returned the form, and have been approved, you can coordinate the days and times with your child's teacher and begin volunteering!!!
PARENT-TEACHER CONFERENCES
Scholars and teachers have been working very hard since the first day of school. During the week of September 4 – 6 you will have an opportunity to meet with your child's teacher to discuss, in detail, how your child is doing academically.  At this conference the teacher will go over their Progress Report and provide you with a copy. Each teacher will be sending home a letter to schedule these conferences, so keep an eye on your child's backpack.
DTPA CHEER TEAM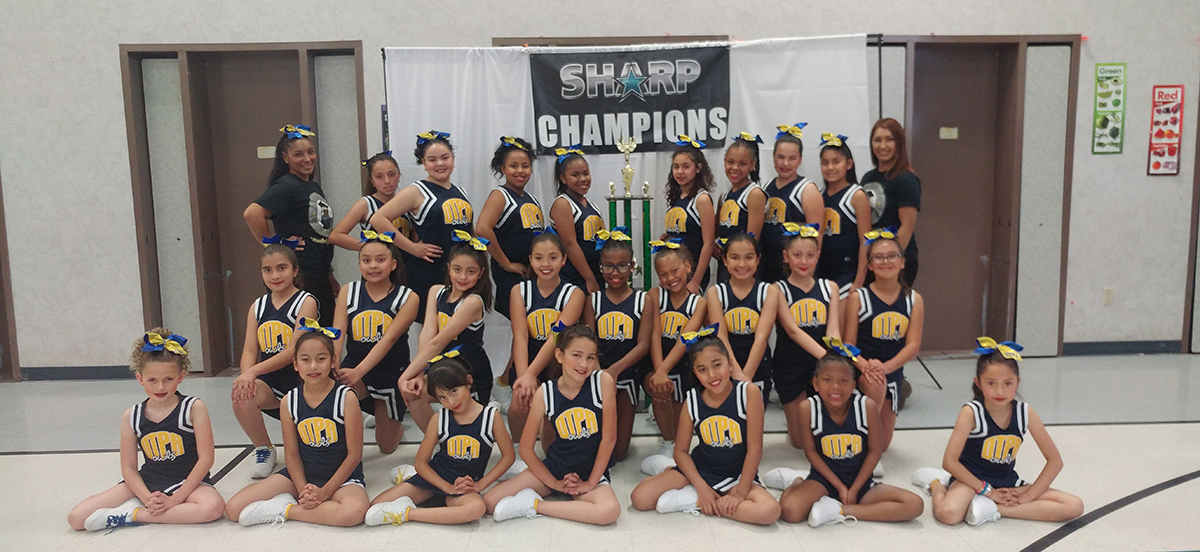 The Desert Trails Preparatory Academy cheer team are victorious again!  This year's cheer team ranged from 3
rd
 to 6
th
 graders who realized that cheer is a fun, but serious sport. Our girls learned quickly that cheer is not easy. With the help of Ms. Jazmyn, Ms. Angel, and Mrs. Vance, the girls practiced their sharp, rhythmic movements twice a week, no matter the weather. As competition day approached, the girls did not falter in their confidence and on March 17, 2018 they proved what their coaches already knew and performed their little hearts out. They were on sharp with their movements, in sync with each other, and hit all of their stunts. The girls gave full effort to get the win. Desert Trails was the ONLY elementary school competing against six other experienced dance/cheer teams and All-Star teams. So, when the SHARP officials called Desert Trails Preparatory Academy as SHARP Champions we knew we slayed the performance! Desert Trails Preparatory Academy Cheer team is a team of mighty stars shining extremely bright. Fear our bows!
OCT 08
No School –
Columbus Day
OCT 10, 24
Harvest Festival Meeting
@ 8:30 am
OCT 22-25
Red Ribbon Week