JANUARY MEMO

January Newsletter 
I hope that everyone had a wonderful break and was able to spend some time with family and friends.
We would like to thank everyone that was able to attend the awards assembly last month. It was great to recognize and celebrate each scholar's academic achievements. Having parents and families involved makes a positive impact and is appreciated.
As the weather begins to turn cold please make sure that your child is coming to school with layers and a jacket. Jackets and undershirts may be any color. It is helpful to write your child's name on the tag, as they often will get warm during recess, take it off, and forget it. We have a lost and found in the MPR and we encourage everyone to check it regularly.
As we begin the second half of our school year and get into our routines, let us remember to continue to support our scholars' learning by seeing to them completing homework, getting a good night's rest and starting the day with a nourishing breakfast. These things play a major role in the success of our scholars.
Thank you for always being supportive parents and we look forward to an awesome 2019!
DTPA CHEER TEAM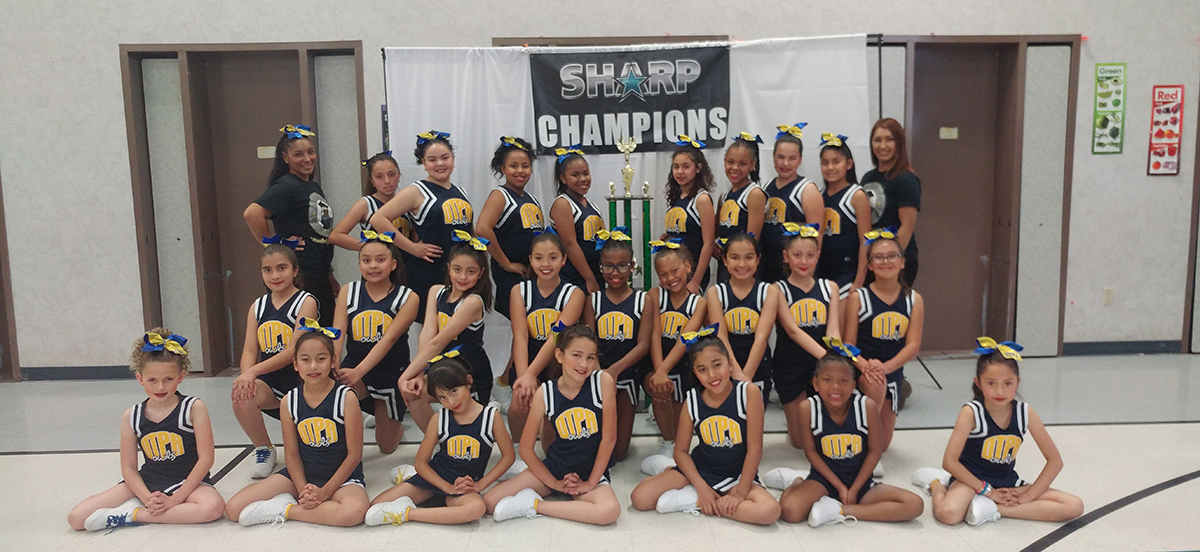 The Desert Trails Preparatory Academy cheer team are victorious again! This year's cheer team ranged from 3
rd
to 6
th
graders who realized that cheer is a fun, but serious sport. Our girls learned quickly that cheer is not easy. With the help of Ms. Jazmyn, Ms. Angel, and Mrs. Vance, the girls practiced their sharp, rhythmic movements twice a week, no matter the weather. As competition day approached, the girls did not falter in their confidence and on March 17, 2018 they proved what their coaches already knew and performed their little hearts out. They were on sharp with their movements, in sync with each other, and hit all of their stunts. The girls gave full effort to get the win. Desert Trails was the ONLY elementary school competing against six other experienced dance/cheer teams and All-Star teams. So, when the SHARP officials called Desert Trails Preparatory Academy as SHARP Champions we knew we slayed the performance! Desert Trails Preparatory Academy Cheer team is a team of mighty stars shining extremely bright. Fear our bows!
JAN 31
Shakey's Night Fundraiser
FEB 15, 18
NO School – President's Day
FEB 22
Spelling Bee @ DTPA
FEB 28,
MAR 01
Parent Teacher Conferences,
Noon Dismissal 
MAR 13, 15
Scholastic Book Fair
MAR 15
Spelling Bee @ LEPA
MAR 22
Jog-a-thon Fundraiser
APR 09
State Testing Begins