DECEMBER MEMO

December Newsletter 
I hope that everyone had a wonderful Fall break and was able to spend some time with family and friends.
I would like to extend a giant thank you to all of the families that donated to our Holiday Food Baskets. Because of your contributions, we were able to offer support to 20 DTPA families. We appreciate your kindness and hope all enjoyed.
The next few weeks of school will be filled with assessments, holiday festivities and excitement as our scholars look forward to the Winter Break.
Be safe and enjoy your holidays. See you in the new year!
Winter Awards Ceremony
DTPA will be hosting our Winter Awards Ceremony on Thursday, December 13th. Please see the schedule attached of the time your child will be performing and receiving awards. We will do our best to stick to these times, but times may slightly change on the day of the event. You may sign your child out early on the day of the event if you choose to begin an early Winter Break.
8:30 – 8:50 TK & Kinder
8:50 – 9:10 1st Grade
9:10 – 9:30 – 2nd Grade
9:30 – 9:50 – 3rd Grade
9:50 – 10:10– 4th Grade
10:10 – 10:30 – 5th Grade
10:30 – 10:50 – 6th Grade
10:50 – 11:10 – 7th Grade
DTPA CHEER TEAM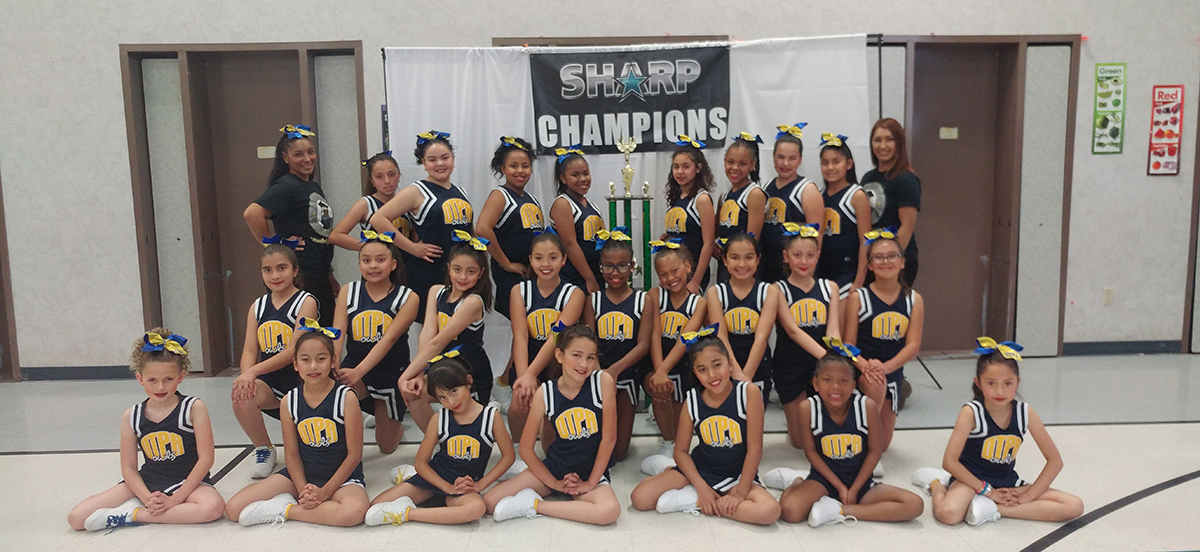 The Desert Trails Preparatory Academy cheer team are victorious again!  This year's cheer team ranged from 3
rd
 to 6
th
 graders who realized that cheer is a fun, but serious sport. Our girls learned quickly that cheer is not easy. With the help of Ms. Jazmyn, Ms. Angel, and Mrs. Vance, the girls practiced their sharp, rhythmic movements twice a week, no matter the weather. As competition day approached, the girls did not falter in their confidence and on March 17, 2018 they proved what their coaches already knew and performed their little hearts out. They were on sharp with their movements, in sync with each other, and hit all of their stunts. The girls gave full effort to get the win. Desert Trails was the ONLY elementary school competing against six other experienced dance/cheer teams and All-Star teams. So, when the SHARP officials called Desert Trails Preparatory Academy as SHARP Champions we knew we slayed the performance! Desert Trails Preparatory Academy Cheer team is a team of mighty stars shining extremely bright. Fear our bows!
DEC 12
*PaJama Day
*Free Dress,
*Noon Dismissal,
*PT Conference
DEC 13
*Holiday Concert & Award Ceremony
*Noon Dismissal
*PT Conferenc
DEC 14-JAN 6
Campus Closed
JAN 21
No School,
MLK Day