MARCH MEMO

FROM YOUR DIRECTOR
I hope that everyone had a wonderful break and was able to spend some time with family and friends.
We had the joy being entertained by our scholars at our wonderful Winter Concert.  We would like to thank everyone that was able to attend.  And a special thank you to the parents who offered their time to volunteer to make this day special as well. Having parents and families involved makes a positive impact and is appreciated.
As the weather begins to turn cold please make sure that your child is coming to school with layers and a jacket.  Jackets and undershirts may be any color.  It is helpful to write your child's name on the tag, as they often will get warm during recess, take it off, and forget it.  We have a lost and found in the front office and we encourage everyone to check it regularly.
FRIDAY SCHOOL IS IN SESSION!!!
January is finally upon us.  Beginning Friday, January 12, 2018 and every Friday to follow, school will be in session.  Fridays are minimum day schedule, 8 a.m. – 12 p.m.  Please be sure to mark your calendars accordingly and make proper arrangements to have your child picked up from school on time.  Thank you.

BOX TOPS
Don't forget to collect those Box Tops!  We will be holding a school-wide competition for the month of January.  Please collect, cut and turn in Box Tops to your child's teacher no later than Friday, February 3, 2017.  The class with the most Box Tops will earn a prize!!!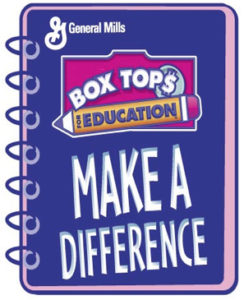 MAR 13-16
Scholastic Book Fair
MAR 14-16
*Noon dismissal

*Parent Teacher Conferences
MAR 29
Jog-A-Thon Fundraiser Ends