OCTOBER MEMO


FROM YOUR DIRECTOR
I would like to thank all of the parents and family members that attended Parent-Teacher Conferences.  This is a wonderful opportunity to be able to sit with your child's teacher and discuss their learning and academic progress.  As a staff, we appreciate you taking this time, and enjoy getting to know you a little bit better.
As we enter the season of autumn I would like to remind everyone to keep healthy.  Dress in layers, and remember to put your child's name on the tags so that lost items may be returned.  Eating well and drinking plenty of water is another way to ensure your body is ready to fight off extra germs.  The lunchroom opens at 7:30 am for breakfast each day for those that would like to eat breakfast at school.
Thank you for all that you do in supporting your child's education.
HARVEST FESTIVAL
On Thursday, November 2, 2017, DTPA will be having its Fourth Annual Harvest Festival.  This will be held on campus from 12:00p – 3:00p.  Scholars and their families are encouraged to dress in WESTERN WEAR (NO COSTUMES).  All DTPA families are encouraged to come out and attend this wonderful festival.  Each class will have its own activity booth in addition to food and fun.  Please contact your child's teacher to help donate and volunteer for this event in addition to attending and enjoying the day with us.  We look forward to seeing everyone there!

ATTENDANCE
We would like to say thank you for helping us to decrease the number of school absences thus far this school year. In order to ensure a sound education, it is imperative that scholars come to school every day and on time.  We have recently noticed an influx in tardiness.  Please be sure to prepare the night before by laying out clothes, packing lunches and setting alarm clocks.  Your scholars will be marked tardy if they are not at school by 8:00 a.m.
DRESS CODE
As the weather changes, we are all inclined to bundle up our children.  Please be sure that your scholar is in dress code.  Blue or khaki pants are the only acceptable pants at DTPA. NO jeans or jeggings are allowed.  School shirts must also have a logo.  Parents will be called for any scholars who are wearing jeans or jeggings so that appropriate attire may be brought for your child to change.  If you have any questions, please refer to your parent-handbook or you may contact the front office.

To view DTPA NEWS in pdf
RED RIBBON WEEK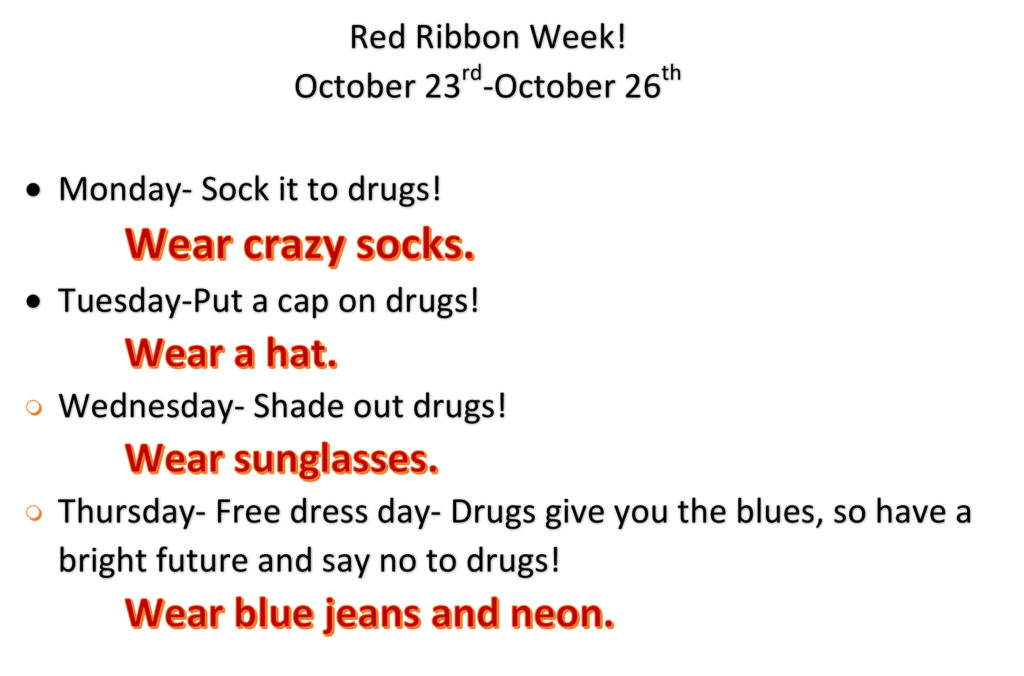 OCT 9
No School – Columbus Day
OCT 11, 25
Harvest Festival Meeting 8:30 AM
OCT 12
Make Up Picture Day (Must be in Dress Code)
OCT 19
Canned Food Drive Ends
OCT 31
Halloween – NO COSTUMES
NOV 02
Harvest Festival 12:00 pm – 3:00 pm